Located on the edge of the A75 and near the Millau Viaduct, this business park hosts industrial, small business and wholesale activities. Its strategic location (AFR and ZRR) enables it to benefit from added regional business support and tax exemptions.
Identity
Location : Millau / Castelnau-Pégayrols
Price : 11 to 12 € HT / m²2
Number of jobs (industrial) : 549
Number of companies : 54
Main companies : Menuiseries Combes, Austruy Charpente, Mégisserie RICHARD, Routage Service, AUGLANS (Public works)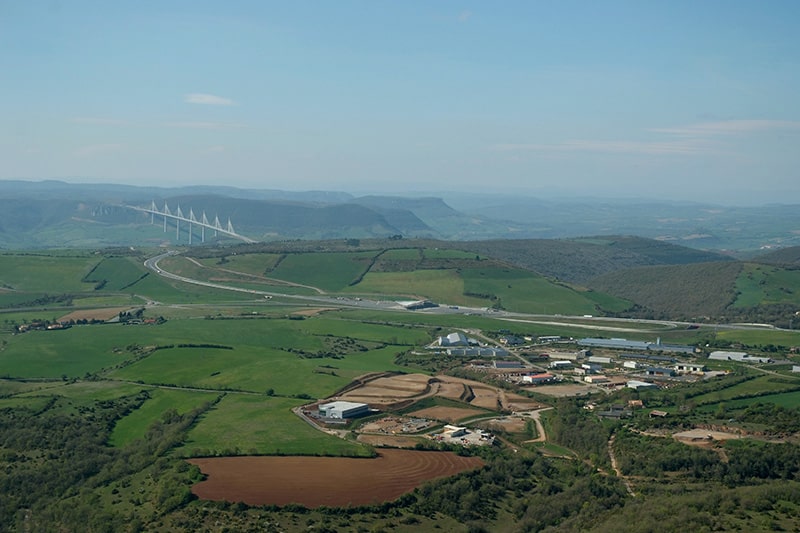 50
TOTAL SURFACE AREA (in ha)
3
AVAILABLE SURFACE AREA (IN HA)
Access
Nearby cities: Rodez (1h), Montpellier (1h15)
A75 motorway (5 min)
Millau SNCF train station (10 min)
Rodez-Aveyron airport (1h)
Networks
Electricity
Gas
Broadband
Collective water treatment
Facilities and services
Information to come.
Business real estate
Pépinière d'entreprises à Millau « l'Envol » propose une offre complète de bureaux (795 m2), ateliers (1 434 m2) et plateaux (1 930 m2) à la location. Un village d'entreprise de 1 000 m2 réparti sur 3 ateliers propose également une offre d'accueil.
Regional accompaniment
The Occitanie Region has implemented a set of programmes to help businesses.
More information
Strengths of the territory
Strengths of the territory
Millau viaduct, Aveyron leather cluster, group of eco-innovative companies (GECO), organic market gardening (Jardin du Chayran).