Ce parc d'activités s'inscrit dans le Nogaropôle, constitué d'un pôle d'excellence autour du circuit automobile (homologué essais F1), de l'aérodrome (piste de 999 m), de la pépinière d'entreprises et du centre d'essais du Nogaropôle. Son emplacement stratégique lui permet de bénéficier d'exonérations fiscales liées au zonage  »Zone Revitalisation Rurale » (ZRR).
Identity
Location : Nogaro
Price : 15€ HT
Number of jobs (industrial): : 12
Main companies : ASP (Policand)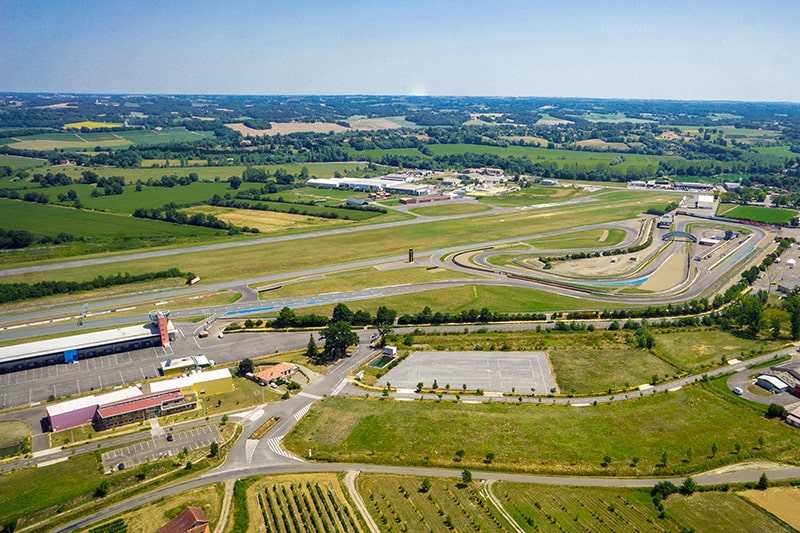 15
TOTAL SURFACE AREA (in ha)
10
AVAILABLE SURFACE AREA (IN HA)
15
Average price (HT / m2)
Access
Nearby cities: Auch (50 min), Tarbes (1h)
On the edge of the RN 124, near A65 (10 min)
Aerodrome on the zone (2 min)
Networks
Haut débit (fibre en cours de développement)
électricité
Gas
Facilities and services
Centre d'essais offrant plusieurs services tels que la location d'espaces techniques et/ou bureautiques, ainsi que du matériel de haute technologie (simulateur de pilotage, géo-positionnement 6 axes…).
Business real estate
Hôtel d'entreprises de 1 600 m2 (with 8 offices and 4 workshops), industrial building (6 offices and a workshop of 442 m²).2).
Regional accompaniment
The Occitanie Region has implemented a set of programmes to help businesses.
More information
Strengths of the territory
Strengths of the territory
Pôle labellisé « Pôle d'Excellence Rurale » Circuit Paul Armagnac (haut lieu du sport automobile mondial), formation sur la mécanique de compétition (lycée professionnel et école de la performance), Zonage ZRR