At the heart of an industrial and private research centre, the Causse business park supports innovation in 3 fields of expertise: Health, Digital and Fine Chemicals. This makes it the main site of the Castres-Mazamet technopole and the Cancer Bio Santé competitiveness cluster.
Identity
Location : Castres / Labruguière
Price : 12,20€ HT / m2 (industry), de 25 à 75€ HT / m2 (tertiary)
Number of companies : 88
Number of jobs (industrial) : 1095
Main companies : Laboratoires Pierre Fabre, Albireo, Cap Laser, Thalès services, CGX, IMS, Somalu, Thouy, …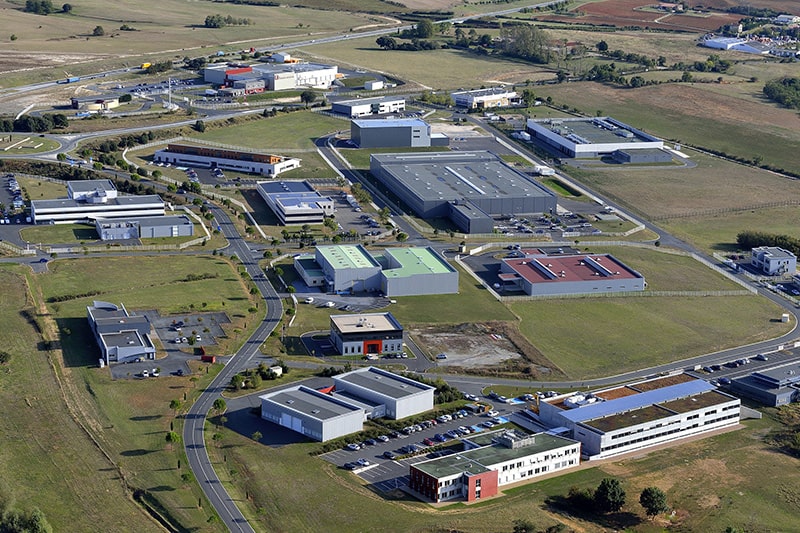 193
TOTAL SURFACE AREA (in ha)
60
AVAILABLE SURFACE AREA (IN HA)
Access
Nearby cities: Toulouse (1h)
On the RN 112
Castres SNCF (5 min) Toulouse TGV (1h)
Castres-Mazamet (1 min), Toulouse-Blagnac (1h) airports
Networks
Electricity
Very high speed internet
Connection point for global internet flows
Gas
Collective water treatment
Facilities and services
Espace de co-working, hôtel-restaurant, crèche d'entreprise, ateliers relais, incubateur.
Business real estate
Real estate complex of 4,000 m2 with business hotel (2,000 m2), technological platform and a business incubator (1,000 m2).
Regional accompaniment
The Occitanie Region has implemented a set of programmes to help businesses.
More information
Strengths of the territory
Strengths of the territory
Campus universitaire (école d'ingénieur ISIS et IUT), siège social entreprise Pierre Fabre sur le territoire, Aéroport et centre hospitalier à proximité immédiate,. Projet d'autoroute Castres-Toulouse. Zonage AFR