Near Toulouse, on the A68, a "new generation" business park is being developed. This eco-responsible project, unique in France, has integrated industrial ecology principles right from the design phase. Its strategic location allows it to benefit from added regional business support.
Identity
Location : Saint Sulpice la Pointe / Buzet sur Tarn
Price : 45€ HT /m² (industrie et locaux d'activités) / 60€ HT /m² (tertiaire)
Number of companies : 1
Number of jobs (industrial) : 110
Main companies : Vinovalie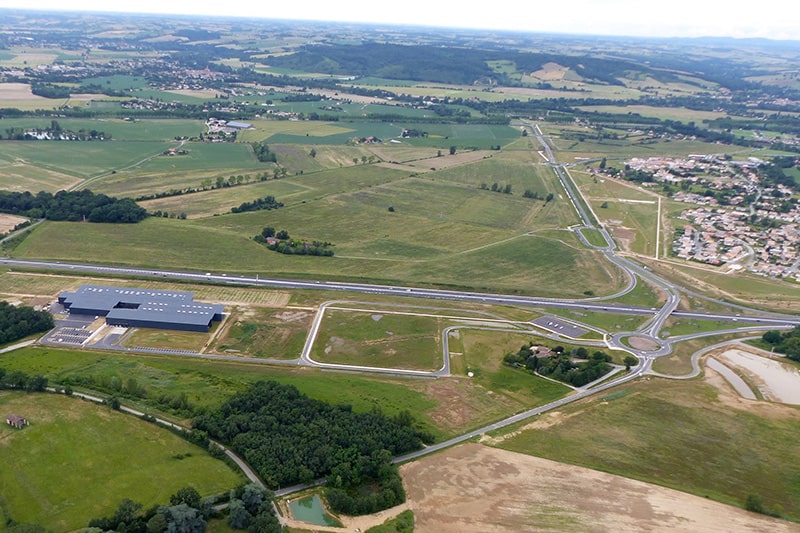 200
TOTAL SURFACE AREA (in ha)
126
AVAILABLE SURFACE AREA (IN HA)
Access
Nearby cities: Toulouse (10 min)
A68 motorway (2 min)
Saint-Sulpice station (5 min), Toulouse TGV (15 min)
Toulouse-Blagnac airport (15 min)
Networks
Electricity
Very high speed internet
réseau de chaleur mutualisé
réseau d'eau brute (220 m3/heure), eaux usées, eau potable
Facilities and services
Motorway service area with fuel for cars and trucks
Charging terminals for electric vehicles
Washing area, parkings, restaurants
projets à venir: conciergerie mutualisée, véhicules électriques en auto-partage (automobile et vélo à assistance électrique)
Business real estate
70,000 m2 of logistics real estate
Regional accompaniment
The Occitanie Region has implemented a set of programmes to help businesses.
More information
Strengths of the territory
Strengths of the territory
30 minutes from the main economic centres, industrial ecology project (transport network, energy production and distribution system, quality landscaping).